Sahaja Yoga Meditation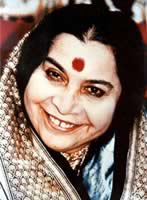 Sahaja Yoga is a meditation technique which brings a breakthrough in the transformation of human awareness. It was created by Shri Mataji Nirmala Devi in 1970 and has since spread all around the world.
The advent of Sahaja Yoga meditation was prophesized a long time ago in many of the world's spiritual traditions and religions, in these modern times many seekers of Truth have been deluded into following various false, self-proclaimed "gurus" who are either money or power oriented, but not Spirit oriented.
A Meditation for spiritual ascent
Through the practice of Sahaja Yoga meditation, our awareness gains a new dimension where absolute truth can be felt tangibly - on our central nervous system. As a result of this happening, our spiritual ascent takes place effortlessly and physical, mental and emotional balance are achieved as a byproduct of this growth of our awareness.
We then realize that we are not this body, mind, ego, conditionings, emotions or intellect, but something of an eternal nature which is always residing in our heart in a pure, undisturbed state - the Self or Spirit.
The Spirit is the source of true knowledge, peace and joy. Self Realization is the actualization of this connection with our Spirit, which as Shri Mataji advocates, is the birthright of every human being.
To Learn more about Sahaja Yoga meditation or to book into one of their free courses please visit their web site http://www.freemeditation.com
You must accept and agree to our Privacy Policy to use our Services.
Be a light to others and you wont stumble on your own path. Meditation is a process of careful thought consideration.
Please email your thoughts, suggestions, opinions and inspirations to
admin@stressmanagement.com.au